Ready for Exile! Isn't Two People's Love Eternal? (Japanese: 追放覚悟! 二人の愛は永遠よね?) is the tenth episode of Slayers TRY. It was first broadcast in Japan on June 6, 1997. In this episode, black and holy magic are fused for the first time.
Spoiler warning: Major plot or ending details may follow.
Synopsis
Edit
Major events
Edit
Fusion magic is discovered to be able to neutralise the power from the Dark Star weapons.
Grabos Maunttop is blasted into the orbit of the Red World.
Alto and Baritone's magical vessels are destroyed.
Characters
Edit
Eyecatches
Edit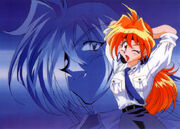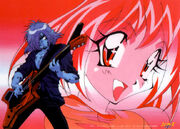 Ad blocker interference detected!
Wikia is a free-to-use site that makes money from advertising. We have a modified experience for viewers using ad blockers

Wikia is not accessible if you've made further modifications. Remove the custom ad blocker rule(s) and the page will load as expected.