An Immediate Result? Love's Whereabouts Are in the Tiny Differences! (Japanese: 効果覿面? 恋の行方は紙一重!) is the seventeenth episode of Slayers TRY. It was first broadcast in Japan on July 25, 1997. In this episode, Amelia and Gourry meet up, and saved a love between a fishwoman and a human male.
Spoiler warning: Major plot or ending details may follow.
Synopsis
Edit
Major events
Edit
Characters
Edit
This whole episode is filled with references to the anime series Evangelion:
Eyecatches
Edit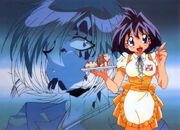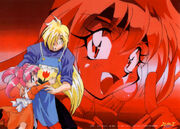 Ad blocker interference detected!
Wikia is a free-to-use site that makes money from advertising. We have a modified experience for viewers using ad blockers

Wikia is not accessible if you've made further modifications. Remove the custom ad blocker rule(s) and the page will load as expected.