A Hero's Advent? For Whom Does the Young Girl Pray? (Japanese: 勇者降臨? 少女の祈りは誰のため?) is the twentieth episode of Slayers TRY. It was first broadcast in Japan on August 15, 1997. In this episode, Sirius discovered the second of the two golden dragon barrier pillars.
Spoiler warning: Major plot or ending details may follow.
Synopsis
Edit
Major events
Edit
Characters
Edit
Eyecatches
Edit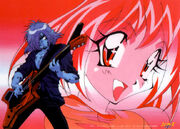 [[Image:|thumb|left|Eyecatch 2]]
Ad blocker interference detected!
Wikia is a free-to-use site that makes money from advertising. We have a modified experience for viewers using ad blockers

Wikia is not accessible if you've made further modifications. Remove the custom ad blocker rule(s) and the page will load as expected.