There's No Use in Arguing! Head for the Showdown! (Japanese: 問答無用! 決戦の地を目指せ!) is the twenty-third episode of Slayers TRY. It was first broadcast in Japan on September 5, 1997. In this episode, Erulogos battles Xelloss for Galveira, and the Slayers join forces with Jillas Jillos Jilles.
Spoiler warning: Major plot or ending details may follow.
Synopsis
Edit
Major events
Edit
Characters
Edit
Eyecatches
Edit
[[Image:|thumb|left|Eyecatch 1]]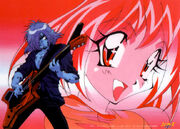 Ad blocker interference detected!
Wikia is a free-to-use site that makes money from advertising. We have a modified experience for viewers using ad blockers

Wikia is not accessible if you've made further modifications. Remove the custom ad blocker rule(s) and the page will load as expected.