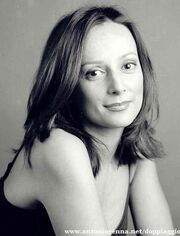 Emanuela Pacotto (Milan, Italy, June 7th, 1965) is an Italian voice actress, actress and singer, best known for voicing many important characters from Japanese animated series. She's a fan of cartoons and actively strives for the spread of Japanese pop culture, participating in numerous exhibitions and events, performing with the voices of her characters and singing some original coding in the Japanese language. On November 3, 2012 she performed in the concert "Emanuela Pacotto - Idol Live Concert AMBITION" becoming the first Western artist to produce a "Idol-style" show performing opening/endings of Japanese anime outside of Japan.
Biography
Edit
From an early age, she took her first steps in the entertainment world by participating in singing contests, television dramas and advertisement. Her young career continued in the choir of the small cantons of Milan directed by Nini Comolli. At the tender age of 10 years, she nearly reached the heights of the dance school of La Scala in Milan, in which however she failed to enter. In September of the same year, she was chosen from more than 500 children for the theatre play "The abandoned doll", directed by Giorgio Strehler with Gianfranco Mauri, Narcisa Bonati, Chip Barcellini and Ottavio Fanfani, marking the beginning of her acting career. Emanuela kept studying ballet, continuing her dancing and acting career. While still attending the "Centro Teatro Attivo", a private acting school in Milan directed by Nicoletta Ramorino, as a 17-year-old she took and passed the entrance exam at the Accademia d'arte dei Filodrammatici, thus officially graduating as an actress.
She emerged in various roles in anime broadcasted in Italy. Among the best known, Bulma (Dragon Ball, Dragon Ball Z, Dragon Ball GT and Dragon Ball - The Saga), Lisa (Saint Tail), Sakura Haruno (Naruto), Nami (One Piece), Jessie (Pokémon) and Lina Inverse in Slayers (also known in Italy as "Un incantesimo dischiuso tra i petali del tempo per Rina", which roughly translates to "A spell disclosed betweent the petals of time for Rina"). She repeatedly described this character as her favourite.
Emanuela Pacotto has also participated in several events such as Romics, Lucca Comics, Cartoomics and more, where she interacted with the audience. In addition to performing her most famous voices, she often sang some original anime opening/ending themes in Japanese, with and without music, such as "Bon Voyage" from One Piece and "Plenty of Grit" from Slayers Revolution.
External Links
Edit
Ad blocker interference detected!
Wikia is a free-to-use site that makes money from advertising. We have a modified experience for viewers using ad blockers

Wikia is not accessible if you've made further modifications. Remove the custom ad blocker rule(s) and the page will load as expected.