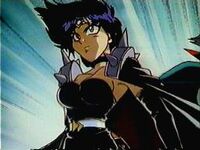 Eris (full name Erisiel Vrumugun, Japanese: エリシエル=ヴルムグン Romaji: erisieru vurumugun) was the lab assistant of Rezo the Red Priest, and one of the main antagonists in the latter half of the first season of Slayers. Her Japanese voice actress is 石川 悦子 Etsuko Ishikawa and her English voice actress is Rachel Nanstad.
For many years, Eris served as an assistant to Rezo, helping him research a cure for his blindness and perform miracles. Eventually she fell in love with him, but whether or not he returned her feelings is unknown. At some point during this time, she helped Rezo to create a clone of himself, called Copy Rezo.
Desperate to cure his eyes, Rezo abandoned Eris to find the Philosopher's Stone. A few months later, Eris learned that he had been killed by Lina Inverse, Gourry Gabriev, and Zelgadiss Graywords. However, at the time she did not know that Rezo had a fragment of Ruby Eye Shabranigdu sealed inside him, and that Lina, Gourry, and Zelgadiss had killed Rezo to destroy that piece after it had been resurrected.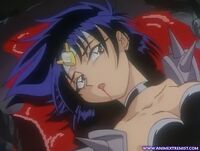 Nevertheless, grieving and angry over Rezo's death, Eris used Copy Rezo to issue a bounty on the three of them in the late Red Priest's name, as well as hiring the bounty hunter Zangulus and creating numerous other Copies, named Vrumugun (see Trivia) (in the novels she sent Rahanimu and Dilgear along with Vrumugun). She planned to use the bounty to bring Lina, Gourry, and Zelgadiss to Sairaag, where she could take revenge on them. However, Copy Rezo betrayed her before she could do so. Before her death, she realized too late that no matter how hard she tried that she should have known that Copy Rezo wasn't really the real Rezo. Copy Rezo than blasted her into oblivion, leaving no remains behind.
In the manga, Eris only appears in flashbacks, as the manga shows that Copy Rezo already killed her before the Slayers even arrived in Sairaag.
In the novels, it is implied that each time Vrumugun appears, it's in fact a different person, having all of them a similar physical appearance and resulting in the characters thinking it's always the same person. All of them are controled by Eris with the gem in their foreheads. In the anime, it is never fully explained who the original Vrumugun is, but at the end of Slayers NEXT, we see a brief shot of someone who looks very much like the Vrumugun Copy Men. It is implied that this person is the original Vrumugun, not Eris (it should be noted that Eris' full name is never mentioned in the anime).
Appearances
Edit
Ad blocker interference detected!
Wikia is a free-to-use site that makes money from advertising. We have a modified experience for viewers using ad blockers

Wikia is not accessible if you've made further modifications. Remove the custom ad blocker rule(s) and the page will load as expected.