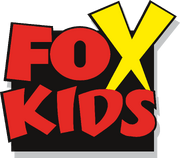 Fox Kids (officially "Fox Family Worldwide, Inc") used to be Fox's children's programming block from September 8, 1990 until September 7, 2002.
In 2001, they acquired the broadcasting rights for the Slayers anime by outbidding Cartoon Network who had also expressed an interest in the show.[1] At the time of the news, Central Park Media wrote to the Anime News Network website to assert that they had nothing to do with the broadcast rights and that it was being handled entirely between Fox and Enoki Films, but they were planning to use the original English dub.[2]
Fox Kids' syndication of the Slayers was going to be heavily edited for children according to Lisa Ortiz who was sent in to re-dub some lines:
"We can't say blood or kill on TV, so they really are replacing words that say blood and kill - and probably some boob jokes," said Ortiz. "They had to change `crimson blood that flows' to `crimson river that flows.' I thought that was very hysterical to me, being a woman, considering the way Lina loses her powers."[3]
Fox Kids ended up never airing the Slayers and instead decided to sit on the rights and wait for them to expire. Fans speculate that it was because Fox Kids eventually deemed the editing to be too expensive, but the dissolution of the block the following year is the more likely cause.
Aired Cartoons
Edit
Some of the more well known cartoons that premiered on the block include:
External links
Edit
References
Edit
↑ http://www.animenewsnetwork.com/news/2001-02-01/cpm-has-nothing-to-do-with-fox's-broadcast-of-slayers
Ad blocker interference detected!
Wikia is a free-to-use site that makes money from advertising. We have a modified experience for viewers using ad blockers

Wikia is not accessible if you've made further modifications. Remove the custom ad blocker rule(s) and the page will load as expected.