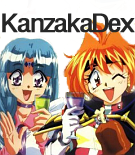 KanzakaDex
The ultimate Slayers, Lost Universe, and Hajime Kanzaka resource.
Novels | Anime | Manga | Characters | Spells | World | Music | People | Miscellany
Getting started | Browsing | Policies | Guides | Wanted | Stubs | Categorical index
Important messages
The KanzakaDex Forum has been moved and is now available here. Users and posts should all be intact.
Slayers Universe has officially named KanzakaDex its successor. Please read this message from Xelloss, the webmaster of SU, for information and instructions on helping.
Remember, anyone can contribute and edit here at KanzakaDex. That means you! We need your help!
You may create and edit articles. Be sure to check the box below for what is especially needed. You are free to contribute what you like, but we need those sections filled out the most right now.
Please consider registering or logging in before you contribute so that you may receive recognition for your efforts and so that you can communicate better with the rest of the KanzakaDex community. Registering is free and very easy.
Helpful information
Upcoming releases and events
Japan
Zelgadiss Charagumin figure: TBA
Amelia Charagumin figure: TBA
Lina Inverse Nendoroid figure: TBA

KanzakaDex is in no way affiliated with any people or companies involved in the licensing or creation of Hajime Kanzaka's works.
It is a fan-created and -maintained, non-profit encyclopedia.
See copyrights for more information.
Ad blocker interference detected!
Wikia is a free-to-use site that makes money from advertising. We have a modified experience for viewers using ad blockers

Wikia is not accessible if you've made further modifications. Remove the custom ad blocker rule(s) and the page will load as expected.