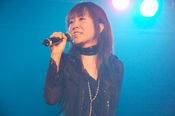 Masami Okui (Japanese: 奥井 雅美) is a professional singer who performed many of the earlier Slayers theme songs, including Get along, KUJIKENAIKARA!, and Jama wa Sasenai. She has also performed anime music for other TV shows, including Di Gi Charat, Revolutionary Girl Utena, Sorcerer Hunters, and Yu-Gi-Oh!.[1]
Many of her songs in Slayers, (such as Get along, KUJIKENAIKARA!, and Nemurenai Yoru Wa) are performed in duet with Megumi Hayashibara. Moreover, most of Okui's work with Slayers is related to the first and second seasons of the anime, and with the earlier radio dramas, Slayers EX and Slayers N►EX. She has performed no songs in the later Slayers works, including Slayers TRY, Slayers REVOLUTION, or Slayers EVOLUTION-R, with the exception of playing the chorus in Plenty of grit. Why this is the case is unclear.
Musical Appearances in Slayers
Edit
Get along
KUJIKENAIKARA!
Jama wa Sasenai
Nemurenai Yoru Wa
References
Edit
Ad blocker interference detected!
Wikia is a free-to-use site that makes money from advertising. We have a modified experience for viewers using ad blockers

Wikia is not accessible if you've made further modifications. Remove the custom ad blocker rule(s) and the page will load as expected.