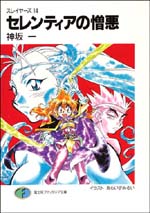 Slayers Vol. 14: Hatred in Sellentia (Japanese: セレンチアの憎悪 Romaji: serentia no zouo) is the fourteenth book in the Slayers novel series, written by Hajime Kanzaka and illustrated by Rui Araizumi. It was published in 1999 by Kadokawa Shoten Publishing. Neither TOKYOPOP nor any other publishing company has plans for releasing it in English.
Plot Information
Edit
Lina and Gourry drop by in Sellentia and find out that the head priest of the holy city has died in a fire, and that his four subordinate priests have begun amassing fighters against each other. Wanting a return to profitable normality, the Sorcerer's Guild hires Lina and Gourry to investigate.
Major events
Edit
Characters
Edit
External Links
Edit
Ad blocker interference detected!
Wikia is a free-to-use site that makes money from advertising. We have a modified experience for viewers using ad blockers

Wikia is not accessible if you've made further modifications. Remove the custom ad blocker rule(s) and the page will load as expected.