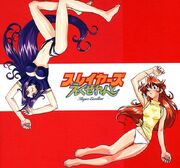 Japanese title: スレイヤーズ えくせれんと
Second Excellent OVA series telling adventures of Lina and Naga before the events of Slayers Perfect movie and in fact details Naga's initial meeting with Lina. Produced by J.C. Staff in 1998, released in USA on DVD in 2004.
Episodes
Edit
Slayers Excellent 1: Labyrinth
Slayers Excellent 2: Fearful Future
Slayers Excellent 3: Lina-chan's Great Fashion Tactics
Slayers Excellent production and crew details at ANN
Ad blocker interference detected!
Wikia is a free-to-use site that makes money from advertising. We have a modified experience for viewers using ad blockers

Wikia is not accessible if you've made further modifications. Remove the custom ad blocker rule(s) and the page will load as expected.