Slayers Light•Magic (Japanese: スレイヤーズ ライト・マジック Romaji: sureiyāzu raito majikku; initially titled Slayers Future, Japanese: スレイヤーズ ふゅーちゃー Romaji: sureiyāzu fyūchā) is a two volume manga series, with the comic scenario written by Tenchimaru Hibiki, and the artwork drawn by Shin Sasaki (the comic scenario for the "prologue" or "chapter zero" of this series was written by Yoshijirō Muramatsu)[1]. The first chapter was on July 26th, 2008 in the September issue of Kero Kero Ace magazine [2]
In the distant future, mankind has advanced into an age of technological supremacy, where magic is a lost art only mentioned in fairy tales and nursery rhymes. Living in such a world is Light Inverse, a youth who dreams of sorcery…. but suddenly, his home is attacked by mazoku! With modern weaponry proven to be ineffective against the monsters, all hope seems to be lost…. Until Lina Inverse and Gourry Gabriev are suddenly transported to the future from a mysterious shrine in their time. Can Lina bring magic back to this land…!? [3]
List of all volumes
Edit
Major Events
Edit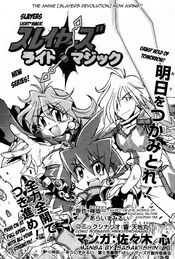 Time: Unknown, parallel dimension
Place: The "Ark" a floating biosphere in the Slayers World
Main Characters
Edit
References
Edit
↑

Slayers Light•Magic: Preview, published in Kero Kero Ace
External Links
Edit
Ad blocker interference detected!
Wikia is a free-to-use site that makes money from advertising. We have a modified experience for viewers using ad blockers

Wikia is not accessible if you've made further modifications. Remove the custom ad blocker rule(s) and the page will load as expected.