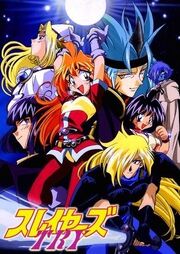 Slayers TRY (スレイヤーズTRY, Slayers TRY?) is the name of the third season of the Slayers anime, consisting of 26 half-hour episodes. Unlike the first and second seasons of the anime, it is not based on any of the novels or manga by Hajime Kanzaka. However, Kanzaka was involved in writing the story of the third season.
Slayers TRY aired on Fridays from April 4 to September 26, 1997 on TV Tokyo.
Spoiler warning: Major plot or ending details may follow.
This plot summary is either incomplete or nonexistent. Please help KanzakaDex by expanding it.
Title
Kanji
Romaji
Adjustments
大石幸平
Kohei Oishi
Animation
戸部敦夫
Atsuo Tobe (OP)
Jin Koga (ED)
Kazuhiro Oriki(ED)
Animation Producer
Shuichi Okada
Cinematic Director
神山茂男
Shigeo Kamiyama
Color Determination
Wayuri Ohta
Design
Kazuto Imanishi
Effects
新井秀徳
Hidenori Arai
Monster Design
寺岡賢司
Kenji Teraoka
Sound Engineering
Keiko Hoshida
Japanese
Edit
English Cast
Edit
Ad blocker interference detected!
Wikia is a free-to-use site that makes money from advertising. We have a modified experience for viewers using ad blockers

Wikia is not accessible if you've made further modifications. Remove the custom ad blocker rule(s) and the page will load as expected.