Visfarank (霊王結魔弾, visufaranku?, kanji: lit. "Spirit King Bind Demon Bullet", also romanized as "Visfa Rank") is an astral shamanistic spell[1], Amelia Wil Tesla Saillune's original creation.
It charges the caster's fists and/or feet with magical energy, making it possible to cause damage via things like punches and kicks to creatures that would otherwise be immune to such attack forms. (ex.: mazoku) It can also be used to deflect or neutralize weaker spells, but that further shortens the spell's already brief duration, making it necessary for it to be cast several times in a battle.
Incantation
Edit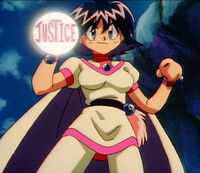 総ての心の源よ
尽きること無き蒼き炎よ
我が魂の内に眠りしその力
我が身となりて
深淵の闇を撃ち払え
subete no kokoro no minamoto yo
tsukiru koto naki aoiki honoo yo
waga tamashii no uchi ni nemurishi sono chikara
wagami to narite
shin'en no yami wo uchiharae
The source of all spirit,
That blue flame that is never exhausted,
That power that sleeps within my soul.
Become one with me
and obliterate the dark abyss.
In other languages
Edit
Dis Fan Rango (Spanish, word without any sense)
References
Edit
↑ Encyclopedia Slayers, pag. 220
Ad blocker interference detected!
Wikia is a free-to-use site that makes money from advertising. We have a modified experience for viewers using ad blockers

Wikia is not accessible if you've made further modifications. Remove the custom ad blocker rule(s) and the page will load as expected.